Today has been a good day.
I got my university results, for the first year -- and I've passed everything! My results for my language modules were, on average, very obviously lower than for literature (except for one, which was amusingly the top mark I got--and that's the lesson I went to the least!), but I passed them all. I can move on to the second year now, which means no more language modules.
I took both of the girls for a walk today (Jess rarely gets walked now, maybe just once or so a week--she's just a huge hassle, and although she's excited for 'walkies' it doesn't effect her behaviour around the house either way if she's walked or not), and both behaved well. Jess gave hard looks to a couple of dogs, but she was on the lead and very close to me, and couldn't cause any trouble. Lola stayed quiet and fairly calm as a staffie passed us on the other side of the road on the way there, while we were practising LAT, and didn't bark at any other people or dogs for the rest of the walk either.
And last but not least, I came online today to find an award from the fantastic
Winnie's Dog Blog
. Of the two blog awards to choose from
there
, I chose the Versatile Blogger award, because it matches the green of my blog layout. :)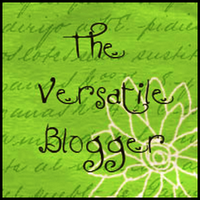 As part of accepting the award, I get to pass it on to ten other bloggers. I've tried to pass it on to those who don't already have it, so please don't think I don't think your blog is versatile if I haven't passed it to you. It was so hard choosing just ten, too! I'd like it to go without saying that these blogs are all worth following, and are
all
awesome. The blogs below are listed in alphabetical order:
1.
2dogcrazy
: This is a blog about Kane and Ellie, a goofy eighteen month old Pit Bull and Miniature Australian Shepherd puppy - and all the craziness they get up to. The content is a mixture of informative posts on pit bulls, adorable photos, and retellings of life with the blogger's two dogs.
2.
An English Shepherd
: This is a blog primarily about Wizz, one of the first English Shepherds born in England for quite a few years. The blog also features the rest of Wizz's family - Auntie Breeze and Dare, both Border Collies, and Chip the Patterdale Terrier. The posts on the blog are mostly about the four-dog family and their adventures in flyball.
3.
Barding Kennel
: This is a 'new' blog, but one which has a lot of potential! It is about the fostering work of a woman in Northern England--so far, she's fostering her first dog, but I have high hopes that the posts (and fosters) will continue.
4.
Black Dog Blog
: Despite the name, this blog isn't just about black dogs--it's about blogger Jen's life with Spike (labrador cross), Sophie (labrador) and Murphy (jack russell). All that high energy just makes me cry to think about it! The posts are about daily life with the three crazy dogs, as well as interesting stuff about agility and flyball.
5.
Raising K9
: A blog documenting the raising and training of Via, a German Shepherd dog. There's some fantastic stuff here about living with dogs, quotes about dogs, and information on raising and training dogs - of course!
6.
Reactive Champion
: This blog makes me wish I'd chosen the 'inspiration' award - it would fit to a T! It chronicles the trials and tribulations of life with Maisy, a four year old Corgi cross, and how her owner Crystal is learning to help her cope with her reactivity. It is a really educational, inspiring blog, with
loads
of great stuff about training and dealing with dogs, both reactive and not.
7.
Ricky's Life
: This blog is about Ricky, a four year old Shetland Sheepdog. There is a mixture of photos, videos, tricks, training and agility here - and it's all great.
8.
Save the Pit Bull, Save the World
: A blog about three dogs: Luce and Mushroom, both Pit Bulls, and Steve the Border Collie. This blog is perhaps one of the most versatile - photos and videos of the three dogs, information about dog health and training, and lots of stuff about various dog sports.
9.
Sara's Dog Blog
: This blog is about four year old Oreo and puppy Chewy, both Shetland Sheepdogs. It has photos and videos of the adorable dogs, trick videos, and lots on agility!
10.
Untrainable
: A blog about a first-time dog owner and her Miniature Daschund, Gaius, who play at the dog sports of agility, obedience and earthdog. On the side, Elizabeth also fosters and posts about life with a breed that is often called 'untrainable'.